Igunis
[[

|300pxpx]]


Species:

Lizard

Appearances:

Frogger: Anicent Shadow (2005)
This is no place for kids! Leave now, while you still have your life.
- Igunis, Frogger: Ancient Shadow
Igunis is a Lizard warrior who appear a Frogger: Ancient Shadow.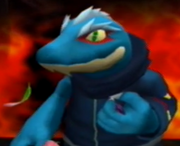 Igunis' Links
Edit
Ad blocker interference detected!
Wikia is a free-to-use site that makes money from advertising. We have a modified experience for viewers using ad blockers

Wikia is not accessible if you've made further modifications. Remove the custom ad blocker rule(s) and the page will load as expected.