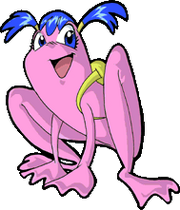 Lily, sometimes "Lillie Frog," is Frogger's girlfriend. She has appeared in almost every Frogger game.
Official BiosEdit
Frogger 2: Swampy's Revenge BioEdit
"Lillie Frog is Frogger's new girlfriend, and sister to all those lost babies! Every bit the equal of Frogger, she's learnt all of his amazing skills. Lillie Frog is smart, inquisitive and bubbly, but always alert to the sneaky Swampy and the plight of the babies!" [1]
Ad blocker interference detected!
Wikia is a free-to-use site that makes money from advertising. We have a modified experience for viewers using ad blockers

Wikia is not accessible if you've made further modifications. Remove the custom ad blocker rule(s) and the page will load as expected.