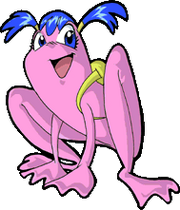 Lily, sometimes "Lillie Frog," is Frogger's girlfriend. She has appeared in almost every Frogger game.
Official BiosEdit
Frogger 2: Swampy's Revenge BioEdit
"Lillie Frog is Frogger's new girlfriend, and sister to all those lost babies! Every bit the equal of Frogger, she's learnt all of his amazing skills. Lillie Frog is smart, inquisitive and bubbly, but always alert to the sneaky Swampy and the plight of the babies!" [1]